High Security Twin Wire Fence
Item No.: DMTWF01
868,656 weld mesh twin wire fence
The robust and strong security weld mesh fence
Twin horizontal 8 wires welded to one vertical 6 wire
or twin horizontal 6 wires welded to one vertical 5 wire
Aperture mesh:50 x 200mm.
Galvanised and PVC Powder Coated
INQUIRY
Description
Durable Metal Products Co.,Ltd is the professional double twin wire fence manufacture.10 years' production experience and competitive price make our twin wire fence quality assurance.Durable metal team could provide drawing and installation service of twin wire fence for all clients.
Application:
Double twin wire fence is a robust form of fencing with strong security ,and is widdely used in around schools,colleges,playground court,sport application,road and commercial properties.
Size and Specification:
It is often called 868 or 656 weld mesh,twin 8mm or 6mm horizontal wires welded to one 6mm or 5mm vertical wire.Two horizontal wire and one vertical wire form a 200*50mm or 50 * 150mm aperture mesh.Heights includes 1m, 2m and 2.4m and by combining panels a range of fence heights can be achieved up to at least 4m.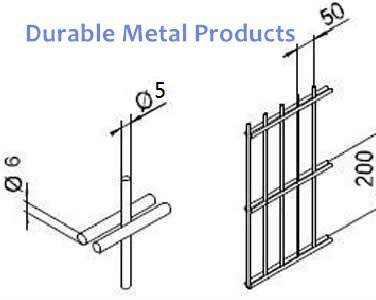 Posts are manufactured from different specifications of steel tube to suit the fence height. Fixings to attach the twin panels to the posts are made from steel backed by anti-rattle rubber pads and fixed to the posts by stainless steel tamper-proof security bolts.
Surface Finishing:
The finish of weld mesh twin wire fencing and the posts are galvanised and polyester coated in Green RAL6005 or any one of a wide range of standard RAL colours.